What We Do When Dell Laptop Windows Not Working After Update
Dell Laptop Windows Not Working After Update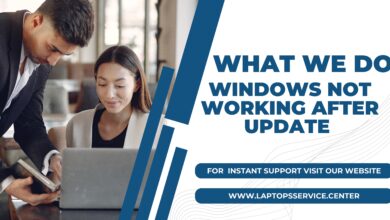 Check for System Restore Points: Dell Laptop Windows Not Working After Update
Windows often creates restore points before updates. You can try to roll back your system to a previous state when it was working fine. To do this, search for "System Restore" in the Windows search bar, and follow the prompts.
Boot into Safe Mode:
Boot your laptop into Safe Mode to see if the problem persists. Safe Mode loads only essential drivers and can help isolate the issue. To boot into Safe Mode, restart your computer and press the F8 or Shift + F8 key repeatedly during startup.
Uninstall Problematic Updates:
If you suspect that a specific update caused the issue, you can uninstall it. Go to "Settings" > "Update & Security" > "Windows Update" > "View update history." Click on "Uninstall updates" and then select the update you want to remove.
Check for Driver Updates:
Visit the Dell website and ensure you have the latest drivers for your laptop, especially graphics and chipset drivers. Outdated or incompatible drivers can cause problems after Windows updates.
Use the System File Checker (SFC):
Open a Command Prompt with administrator privileges and run the command sfc/scannow. This tool scans and repairs corrupted system files that might be causing issues.
Check for Malware and Viruses:
Perform a full system scan with your antivirus software to make sure your laptop is not infected with malware or viruses.
Restore Windows with a Reset:
If none of the above steps work, you can perform a Windows Reset. This option reinstalls Windows while keeping your personal files intact. You can find this in "Settings" > "Update & Security" > "Recovery" > "Reset this PC."
Backup Your Data:
Before performing a reset or more advanced troubleshooting, it's crucial to back up your data to prevent data loss.
Contact Dell Support:
If the issue persists and you're unable to resolve it on your own, consider reaching out to Dell's customer support or a professional technician who specializes in Dell Laptop Windows Not Working After Update. They can provide further assistance or guidance. Remember that it's essential to be cautious when making changes to your system, especially if you're not familiar with the technical aspects. Back up your important data before attempting any major fixes, and consider seeking professional help if you're unsure about the steps to take.
Read More :-How to Perform Dell Warranty Check in India
Our Customer Service Center Links :
Dell Laptop Service Center in Delhi NCR | Dell Laptop Service Center in Mumbai | Dell Laptop Service Center in Lucknow | Dell Laptop Service Center in Kolkata